Review
JOI Book Touch 300 Review — write, scribble, draw, sketch, type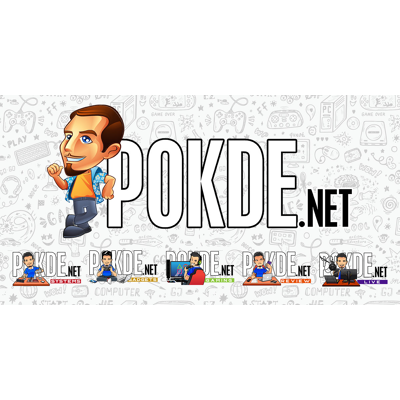 Overview
The JOI Book Touch 300 is one of the most versatile designs we have seen, with a 360-degree hinge and support for an active stylus for you to jot down or sketch out your ideas wherever and whenever you like.
1-year Local Manufacturer Warranty
Positives
+ Aluminium panels contribute to a solid build
+ Contrasting finish is pretty nice
+ Hinge feels very sturdy with good resistance
+ Nice array of I/O ports
+ Affordable
Negatives
- CPU performance leaves much to be desired
- Battery life is lackluster despite "efficient" processor
- Weighs more than some much beefier ultraportables
Introduction
JOI is a local brand that offers some pretty affordable mobile PCs here in Malaysia. Their highest end device right now is the JOI Book Touch 300, a 2-in-1 convertible that comes with Microsoft Pen Protocol support and a 360° hinge. It's also quite affordable at just RM1599. Let's check it out.
Unboxing
The JOI Book Touch 300's packaging is as basic as they come. It's a simple cardboard box, with highlights of the convertible modes and product image featured prominently on the top side.
Over on the other side we see the highlighted features being explained in more detail. So from here we learn that it supports a stylus. Pretty cool. The last JOI device we tested, the JOI 11 Pro, also had pretty amazing support for stylus input.
The JOI Book Touch 300 only comes with the essentials in the box. The laptop doesn't even get much protection, with only foam blocks suspending it.
The charger here is definitely the most curious looking thing I have seen for some time. It's really light and compact, a boon for travel, but I think the design could be further optimized. The JOI Active Pen Pro 300 is sold separately, but we received it to be able to test the feature set better. Do keep an eye out though as they do promotions periodically and bundle the stylus with the JOI Book Touch 300.
Appearance
The aluminium lid is clean, sandblasted for a smooth matte finish. The JOI logo sits centered on the vast expanse of metal. Pretty similar to the design of most recent other ultraportables.
The silver finish continues on to the palm rest area. While it looks just like the aluminium lid, JOI used plastic here. JOI does shake things up a little with the black keyboard and trackpad in stark contrast to the silver paintjob everywhere else on this machine. I have seen my fair share of black keyboards, but this is the first time I have seen a black trackpad.
The underside of the laptop is aluminium, and it sports four rubber feet. In black, no less. I think the designers at JOI really like the contrast. There's even a door to upgrade your storage, as the JOI Book Touch 300 supports M.2 SATA SSDs up to 512GB. On the front edge lies two speaker grilles. There are no vents, because this is a passively cooled laptop.
JOI Book Touch 300 Specs
CPU
Intel Celeron N4100, 2C/2T @ up to 2.6 GHz, 14nm
RAM
4GB DDR4 2400MHz (single-channel)
GPU
Intel UHD Graphics 600 @ up to 650 MHz
Storage
256GB ADATA SU800 M.2 SATA SSD
Software
Microsoft Windows 10 Home
Connectivity
Intel Dual Band Wireless-AC 3165 (1 x 1, 433 Mbps)
1 x USB Type-C
1 x USB 3.0
1x USB 2.0
1 x microSD slot
Display
13.3″ FHD (1920 x 1080) display, touchscreen support
1 x mini HDMI
Audio
Stereo speakers
1 x 3.5mm combo jack
Power
38 WHr Li-po battery
24W power adapter
Dimensions
319.2 x 210 x 15.6 mm
Weight
1.54 kg
Performance
The storage here is as fast as you would expect of a SATA drive. It's pretty good, so it won't be the bottleneck to your experience.
What would really bottleneck the experience is the CPU performance. The multi-core performance of the Intel Celeron N4000 is less than what you would expect out of a modern processor's single core. It really is quite abysmal. Multi-tasking is definitely not the JOI Book Touch 300's stronghold, and even working on this article was a somewhat sluggish experience. The text appeared on screen with a short but noticeable delay after I have typed them out on the keyboard. I won't even go on to test the GPU performance, as this just isn't a high performance laptop.
Efficiency is also somewhat on the low side, with the JOI Book Touch 300 only delivering a bit more than an hour of battery life before it hit 20% and automatically triggered the battery saver mode. I presume we should be able to squeeze out another 30 minutes or so out of the JOI Book Touch 300 before it gives up the ghost, but these aren't stellar numbers, regardless.
User Experience
The main selling point of the JOI Book Touch 300 is its convertible form factor and stylus support. More on the latter, later. The 360° flip is pretty cool, giving you more ways of using the touch display. The hinge is rather stiff, but I don't really mind it. Overly smooth hinges will cause problems with it not being able to hold an angle very well, and that only gets worse with age. The screen leans towards the cool side of things, but other than that, it is a pretty serviceable display panel. There's a pre-installed plastic screen protector too to protect it from scratches from your use of the stylus.
Now, the JOI Active Pen Pro 300 stylus. It supports 1024 pressure levels, which is pretty much the industry standard. There is no stowage on the JOI Book Touch 300 itself, so you would have to deal with the crushing fear that you will lose your pen someday by misplacing it. If you don't, the stylus is pretty good for drawing on the JOI Book Touch 300. You can see the art done by the only guy in the office who can draw. Palm rejection could be better, and the screen protector doesn't jive with the pen tip that well. With that said, the JOI Book Touch 300 is also Microsoft Pen Protocol-certified, which could mean that more pen-centric features will come to the device via future software updates from Microsoft.
If you opt for more conventional input methods, the keyboard is decent. It's quite tactile with a good springy return but travel is definitely a premium in a ultraportable like the JOI Book Touch 300. I won't hold it against JOI as we have experienced worse keyboards in much more substantial laptops. The trackpad is equally serviceable, with a textured surface just nice for sufficient feedback.
If you still decide that you need to connect extra peripherals to work, you can. You get two USB Type-A ports for your legacy peripherals, and a USB-C port if you want to connect your newer hardware. There's also a mini HDMI port and a 3.5mm jack if you want to improve your audiovisual experience. Last but not least, a microSD card slot for file transfers, or as a quick and cheap way to expand the JOI Book Touch 300's storage.
Speaking of the audiovisual experience, the speakers on the JOI Book Touch 300 are ridiculously loud. They don't sound all that great, but if you want to listen to podcasts or talk shows, it will do the job just fine. There's no bass to speak of, so music and movies will come up short if you use the built in speakers.
In case you were wondering about the cooling, the JOI Book Touch 300 does not come with any fans. It's entirely fanless and the device barely heats up. The heat, or should I say warmth, because it is really that mind, is mainly focused around the WASD cluster. The heat is really insignificant though. The Celeron N4000 here is a 6W TDP chip, so there isn't much need for any cooling. Some smartphone chipsets like the Kirin 960 actually consumes more power than this, so you will be fine without any fans. Something for silence freaks to consider?
Conclusion
Priced at RM1599, the JOI Book Touch 300 is very affordable. However it is held back by a processor that's weaker than a chipset in a flagship smartphone in 2018. The user experience isn't all that great, but one which is, serviceable. I used this word quite a bit in the review because it gives me everything I need to write my articles on, but not much else. Manage your expectations, and you will find that the JOI Book Touch 300 does offer some good value, especially if you get it during the promotional periods when JOI bundles additional storage and the JOI Active Pen Pro 300 for free.