Review
MasterBox 5 Dual Tone by Cooler Master review — more affordable, even sexier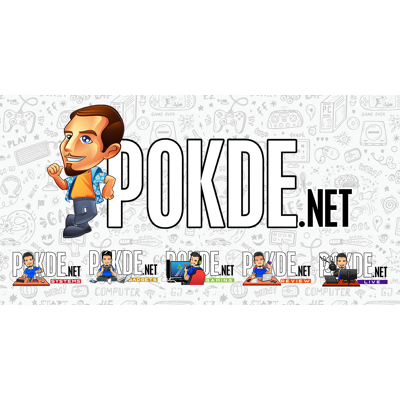 Positives
+ Clean and sleek design
+ Most part are metal
+ Good hardware compatibility
+ Easy cable management
+ Ready for water-cooling
+ Support E-ATX motherboard
Negatives
- Only comes with single drive cage
- No rubber grommets for the cut-outs
- Airflow performance might affect certain build
- Only comes with two pre-installed fans
Surprisingly, even as we have reviewed everything from USB external drives all the way to a robotic vacuum cleaner, we have never reviewed a computer chassis before. One of the essential parts that make a PC rig whole, and yet we have never reviewed one yet. That is also the reason why it took me some time to review this case. I dare say the Cooler Master MasterCase 5 was a huge success, especially judging based on the reception here in Malaysia. Everyone loved with the case and want to mod it. Today I have the Cooler Master MasterBox 5, the little brother of the MasterCase 5, so let's check it out and see if it lives up to its bigger brother's success as well.
Unboxing
The Cooler Master MasterBox 5 comes in a plain box with only the information you need to know about the case. This remind me of my old Cooler Master Elite 342's retail packaging, which was also one of my favorite M-ATX cases.
The MasterBox 5 is secured in the box by two chunks of Styrofoam to hold the case in place. The MasterBox 5 is included with a small numbers of accessories including several types of screws, standoffs, cable ties, warranty information leaflet and a user guide.
Appearance
At first sight, the MasterBox 5 shares a slight resemblance with its big brother, the MasterCase 5. However the resemblance stops at the clean lines and angular features. The case's features a clear plastic front panel which looks way sleeker than the mesh found on the MasterCase 5. However this only the case with our Dual Tone variant here, as the black version will come with a mesh panel. The side window allows you to show off your rig's internals without having to resort to third party mods. The angled top of the front panel is home to the HDD activity LED, two USB 3.0 ports, the power button, front panel audio jacks, and last but not least, a small square reset button.
Nothing special at the back of the case, it looks pretty standard like most ATX casings. But hey, there is a slot to mount the graphics card vertically. Let's open both side panel and check out the interior compartment.
You get a PSU shroud and drive cage with the MasterBox 5, once again satisfying what most enthusiasts look for in a case without having to look for third party solutions. The HDD cage allows able to mount up to two 3.5 HDDs and a SSD.
In true #MakeItYours spirit, both the PSU shrouds and drive cage can be removed, with the drive cage's position adjustable too. Under the PSU is a removable fan filter to reduce the dust build up in your PSU.
There is a nifty little cage that fits a single 2.5″ drive. It can be repositioned across the entire row depending on where you want your SSD to sit.
There is no exhaust vent at the top of the case, but we can mount up to 360mm AIO coolers at the front of the case. Meanwhile at the rear we can mount a 120mm AIO cooler. Both front and rear mount are compatible with push-pull fan configurations.
The Cooler Master MasterBox 5 has a huge CPU cut-out on the motherboard tray for easier installation of cooler backplates. Also, it has a lot of cut-outs for the cable routing. We would have preferred to see rubber grommets covering the edges of the cut-outs here, but sadly we find none here. In term of motherboard size, the MasterBox 5 support E-ATX motherboard.
Behind the motherboard tray there is a decent amount of space for you to hide your cables. There is even space for a SSD behind here, but you will need to look for your own SSD tray.
Last but not least, at the bottom of the case, we find the easily removable dust filter for the PSU intake. The chunky feet raise the system off the surface you place it on, but there are no intakes along the bottom of the MasterBox 5 to make use of the extra airflow through the bottom of the case. The only component that benefits from this extra airflow is the PSU.
Specifications
Model Number
MCX-B5S1-KWNN-11
Available Color
Black
Materials
Steel body, Plastic mesh bezel
Dimensions (LxWxH)
All
500 x 220 x 475mm
Motherboard Support
ATX, Micro-ATX, Mini-ITX
Expansion Slots
7
Drive Bays
5.25″
Cages are sold separately
Combo 3.5″/ 2.5″
2
SSD
1
I/O Port
USB 3.0 x 2
Audio in / out
Pre-installed Fan(s)
Front
120mm x 1
Rear
120mm x 1
Fan Support
Front
120mm / 140mm x 2
Rear
120mm x 1
Liquid Cooling Support
Front
240mm / 280mm radiator, up to 50mm thickness without fan
Rear
120mm
Clearances
CPU Cooler
167mm / 6.5″
PSU
180mm / 7.1″
GPU
410mm / 16.1″
Cable Routing
Behind Motherboard Tray
25mm – 35mm
Dust Filters
Front, bottom
Power Supply Support
Bottom mount, ATX
Hardware Configuration
| | |
| --- | --- |
| Processor | Intel Xeon E3 1230V @ 0.86v |
| Motherboard | ASUS H87-PLUS |
| Memory | Corsair Vengence DDR3 16GB (4x4GB) |
| Storage | Corsair LS 120GB (System), Western Digital Blue 1TB (Game), Western Digital AVGP Green 2TB (Archive) |
| Power Supply | AcBel iPower 90m 600W 80+ Gold |
| Accesories | Lumax Titan RGB LED strip |
User Experience
I migrated all of my hardware from my previous Corsair 400R into the Cooler Master MasterBox 5 Dual Tone we have here. Installing all the hardware into the casing is not that difficult if your PC has a small amount of component. First thing I want to mention is how robust the MasterBox 5 design is. Routing the cables are quite convenient, additional with the PSU shroud it does make it better in hiding all the extra cables.
The only issue I had with the casing is the amount of drive cages available. With only one drive cage included, the MasterBox 5 is only capable of accommodating only two 3.5-inch HDDs. After some looking around and testing, I manage to install one of my HDDs vertically. I don't recommend you to do this but in my case (pun not intended), I detected no vibration even when the drive was under load, which is a good sign.
Cooler Master representative did say that the Cooler Master MasterBox 5 looks great when you pair it with a RGB LED strip. I totally agree and very highly recommend you do to the same thing too. Without further ado, I got the Lumax Titan RGB LED from Mod n Go Design. The results are above, and it is really stunning.
The case is pretty silent even with three fans, an AIO cooler pump, a single GPU and two spinning platter drives running. Even after everything was mounted into the case, I detected no vibration produced, which is a good sign of a good computer case. Temperature wise, since modern hardware has greatly improved heat dissipation and lower TDPs, the MasterBox 5 isn't affected by any heat issues.
Conclusion
The Cooler Master MasterBox 5 has its own advantage over its big brother the MasterCase 5. It is slightly more compact and assembling a new build with the case should be easier with a small amount hardware but personally I think a single drive cage is not enough if you are planning to get more than two 3.5-inch drives. The amount of pre-installed fans also bothers me, I think total of three pre-installed fans is the fair number. This allows user to set up a push-pull fan configuration if they mount a 240mm radiator in front.
The absence of a 5.25-inch drive bay is not a problem at all, since most people nowadays don't bother to use a DVD drive as almost everything are available in digital form now, especially games. The MasterBox 5 actually is a pretty good candidate for case mods too, as I witnessed how beautiful it can get with as simple a mod as adding a LED strip. A lot more can be done with the case in the modding scene. The Cooler Master MasterBox 5 Dual Tone is priced at RM399, making it a good alternative for those who can't afford the Cooler Master MasterCase 5. I award it with our Silver Pokdeward.