EVGA Cut Ties with NVIDIA, Exits GPU Business Entirely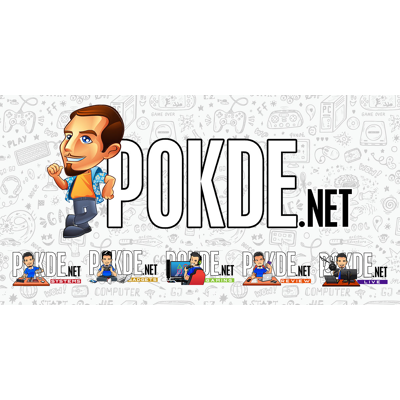 EVGA Cut Ties with NVIDIA, Exits GPU Business Entirely
In what is a massive bombshell dropped on the GPU and gaming industry, EVGA has announced that they will completely leave the GPU business moving forward, citing difficult and "disrespectful" relationships working with NVIDIA as an AIB (add-in board) partner, since their collaboration began all the way back two decades ago.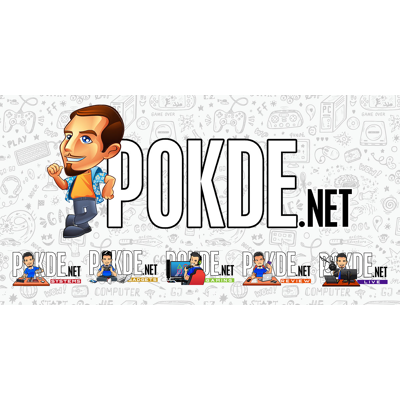 GamersNexus and JayzTwoCents, both who simultaneously broke the news, were invited to a private closed-doors meeting earlier with EVGA's CEO, Andrew Han, of which he announces the aforementioned news, and has explained the decision as a principal one, not financial.
"We are not going to be on [NVIDIA CEO] Jensen's lap on stage, so I don't want people to speculate what's going on […] EVGA has decided to not carry the next gen. […] EVGA is continuing the current product line. We will continue current gen [until it runs out]."

– Andrew Han, CEO of EVGA
When asked about how difficult this decision is for him, he replied with a rather strong response:
"This… this is easy. Working with NVIDIA was hard."

– Andrew Han, CEO of EVGA
When being asked about the possibility of jumping to Team Red or even Team Blue's GPUs, EVGA has denied the possibility and maintained that they will no longer design and produce GPUs moving forward.
EVGA has reassured that existing RTX 30 series customers will continue receive after-sales support, including warranties and RMAs.
GamersNexus also summarized the entire meeting down to these twelve main points: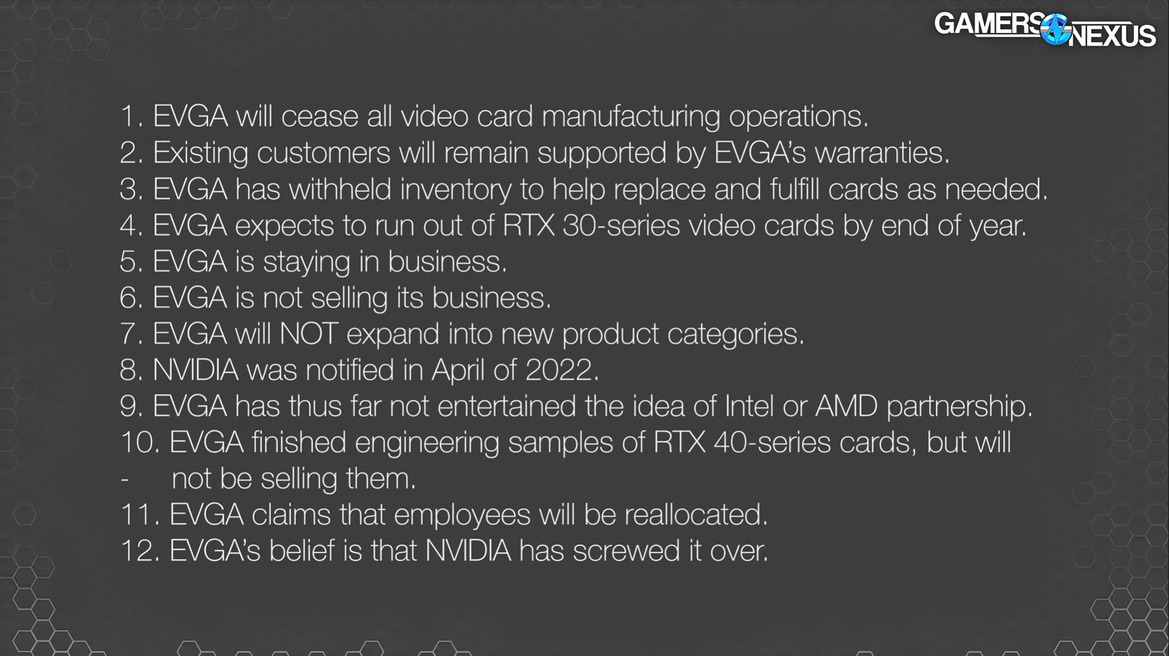 (Note: EVGA has since clarified point #8 – NVIDIA was in fact notified in June of 2022.)
Despite GPUs making up 78% of EVGA's total revenue, the company claimed that it only contributed a measly 15% profits to the company, while their PSU (power supply units) sales has 300% more profit margins despite contributing only 20% of EVGA's entire business so far. The remaining 2% is made up of other components and peripherals such as motherboards, keyboards, mice and so on.
However, it is not hard to see why. Per the video, NVIDIA has been increasingly tightening its grip towards AIB partners for many aspects, including limiting certain experimental and innovative designs that may cannibalize sales of other models; withholding pricing information of the products and GPU silicon to the very last second which left AIBs scrambling for response; setting unrealistic price celling for AIB models which provides very little profit margins or – in current market oversupply situation – outright losses to AIBs which NVIDIA can take advantage of using their own Founder's Edition models; and so on.
Later in the video, an anonymous NVIDIA employee even claimed to GamersNexus that the endgame is to make NVIDIA a vertically-stacked company, much like Apple, where every part is designed in house.
"Jensen (NVIDIA CEO) likes well-integrated and fully controlled vertical solutions. He'll ask, 'why are these guys [AIB partners] making money when they're not doing much?' NVIDIA's problem is it doesn't control the supply chain like Apple does. They can lose money on a board where Apple won't. Apple is run by a supply chain guy, with other supply chain staff living in Taiwan and China doing nothing but sourcing."

– NVIDIA's anonymous staff
What happens next for EVGA? It'll be hard to tell as the company will be faced with the challenge of going through a difficult transitional period, and it remains to be seen if the company will stay profitable as they leave their GPU business behind.
Pokdepinion: This might well be the biggest shock in the GPU industry for a long while… it will be interesting to see the responses from other NVIDIA AIB partners, or even AMD's AIB partners.