Review
Edifier S880DB Hi-Res Audio certified bookshelf speaker review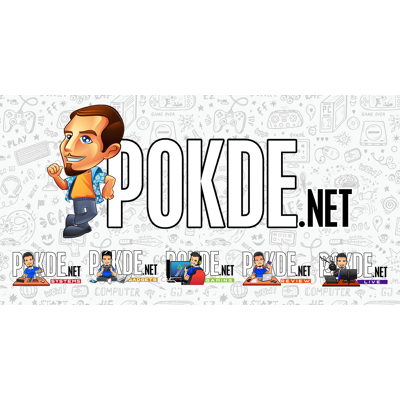 Positives
+ Majestic white finish; compact and sleek design
+ Input options are borderline excessive
+ AptX support; Hi-Res Audio certified
+ Preset sound profiles are convenient for switching between different types of listening material
+ Great sound with wide soundstage
+ Great value for money once you factor in the cost of a decent DAC
Negatives
- Rear mounted controls are inconvenient to reach
- No mute button on remote control
- Volume resets to a default level after a reboot
Introduction
We have been trying a lot of Edifier's bookshelf speakers here at Pokde.net, but we have yet to set foot into their signature S series of bookshelves. We did get the chance to experience the Edifier S350DB 2.1 speaker system which left our reviewer speechless as he was awestruck by the sound of these speakers. Today we have here the Edifier S880DB bookshelf speakers, the latest addition to the line up. Edifier Malaysia was so excited to share their latest product with us that they decided they couldn't wait for the international edition to be available and sent us a unit with Chinese text everywhere. We are absolutely honored to be among the first to experience the Edifier S880DB, so here goes.
Unboxing
The Edifier S880DB comes in a clean white package with black sides instead of the more common maroon sides we have seen with their other bookshelf speakers. As you can see this is the China variant, so we get Chinese everywhere. We can understand that this speaker has a lot of input options though, thanks to the icons at the bottom.
The back is where you find a list of specifications, as well as yet another shot of the Edifier S880DB. Edifier curiously didn't put a shot from another angle here, instead opting to fill the side panels with close ups of its drivers instead.
Digging through the box took some time, and here are the contents of the box. We get the Edifier S880DB, and a myriad of cables to allow you to use almost every input the Edifier S880DB supports. This is also the first bookshelf speaker from Edifier that I have tried featuring an external power supply. We have seen an external power supply that the Edifier S350DB came with, so I believe this is a engineering decision for Edifier's higher end lineup to deliver cleaner power to the speakers.
Let's take a closer look at the cables. We get a fat 5-pin speaker interconnect cable which isolates the treble and bass signal transmission while reducing interference, a gold-plated 3.5mm to RCA cable, optical cable, USB Type-A to USB Type-B cable and the power supply.
Appearance
Instead of the more usual woody colors that Edifier applies to most of their speakers, we get a smooth white panel that wraps around the Edifier S880DB from the front to the back. The white wrap makes for a very appealing contrasty effect. The reflective titanium-laminated tweeter and bass driver with a metal diaphragm and an equally shiny metal dust cap looks like these speakers mean serious buiness.
The sides still feature a wooden look. But this time it's more modern looking with a convex panel and light colored finish. Lines cut through the panel to give off a more dynamic vibe, bumping up the aesthetics a notch.
Over on the back we find the array of inputs, bass and treble dials and the volume dial which also allows you to change inputs with a tap. The rear facing bass port can also make placement a little more finicky, but as long as the material behind it is sufficiently solid, you shouldn't face an issue at all.
Specifications
Power output:
 RMS 12W + 32W x 2 (88W total)
Signal to noise ratio:
≥ 85 dbA
Frequency response:
55 Hz – 20 KHz (+/- 1dB)
Input Sensitivity:
PC: 800 mV ± 50 mV
AUX: 600 mV ± 50 mV
USB/Optical/Coaxial: 400 ± 50 mFFS
Bluetooth: 600 ± 50 mFFS
Input type:
RCA stereo input (PC and AUX), USB, Optical, Coaxial, Bluetooth AptX
Dimensions:
140 x 235 x 170 mm (per speaker)
Source(s):
Using the Edifier S880DB
Inputs galore!
The main thing to do before setting it up is selecting your input. For me, that's USB and PC inputs as I use it with my laptop anyway. The controls being placed on the back are less accessible than placing it on the sides, but I understand Edifier doing it to keep the wooden panels on the sides clean, and you won't really need to tweak the bass and treble dials much anyway with the multiple profiles that the Edifier S880DB comes with.
In case you forgot which input you are using, there is a little display panel on the right cabinet. The IR receiver is also here behind this translucent strip of black plastic. A thing to note is that while the Edifier S880DB supports Bluetooth, it supports AptX which should deliver better quality audio. For the wired digital audio inputs, the Edifier S880DB supports up to 24-bit/192 kHz, one of the criteria for Hi-Res Audio certification. It should also be able to reproduce up to 40 kHz, but Edifier lists the Edifier S880DB's frequency response as 55 Hz to 20 kHz. This discrepancy is similar to what we have seen with the Edifier M3600D THX-Certified 2.1 speakers, as Edifier's measuring techniques are different from the certification bodies'.
Be in control
It's nice to see Edifier opt for a more premium IR remote control after seeing a slew of their remote controls which were so easy to scratch with their glossy plastic surfaces. As mentioned earlier, the Edifier S880DB comes with four preset profiles which will give you a different sound signature to suit whatever you are listening to. On the downside, switching between sources takes multiple taps now, unlike with the Edifier S350DB which featured a similar remote control. You are giving up easy switching between sources (which most probably you won't do that often) for easy access to tuned profiles that fit your listening material (which the Edifier S350DB doesn't have). Quite a no-brainer there for me.
Volume steps are small, which is good. There is no mute button here though. You can even control playback over Bluetooth with the previous, next and play/pause buttons. Turning off the speaker will cause the speakers to revert to a default volume which may end up being higher or lower than your preferred volume.
Sound
We get a 19mm titanium-dome tweeter and a 3.75″ metal diaphragm driver with a very pretty metal dust cap. The primary role of speakers is to sound good, with good looks are secondary. So how do these pretty drivers sound? Really good.
The first thing I noticed with these speakers was a very wide soundstage. Once again, I was surprised by how wide a soundstage can bookshelf speakers bring to the table (literally?). I realized that I could pinpoint sound cues much more easily in movies and games like Overwatch. Music also felt like they had more space in them than I ever experienced with any other speaker.
Lows
Living up to it's Hi-Res certification, the Edifier S880DB features a nice flat sound profile, one which can easily be appreciated in the Monitor sound profile. Moving over to the Dynamic profile, the sound is noticeably more fun. Bass is punchier in this mode, with a slight emphasis on the bass. Turning the bass up to 11 on the back of the right cabinet gives you a lot more punch, without bloating up the mid-bass, which is really good to hear.
Mids
The mids are present regardless of which mode you pick, being especially emphasized in the Vocal sound profile. The Vocal sound profile is perfect for watching news or really talky movies. Vocals are clear, detailed and full-bodied. There is no upper-mid hump here, which have a tendency to cause vocals to sound reedy.
Highs
The highs sound quite laidback if you are listening in the Monitor mode. A flat sound signature is not the most fun to listen to, which is why I did most of my listening in the Dynamic profile. While audiophiles may frown upon the Dynamic profile, it is definitely the most appealing to listen to. It boosts the highs along with the lows for a more energetic sound. The Classic profile also gives the highs a slight boost, but not nearly to the same level as the Dynamic profile does.
Loudness
I really doubt you will have an issue with the loudness of these speakers. I believe they are actually overpowered when used with computers as they can go really loud with that RMS 88W of power. They can easily fill a good sized room or even most living rooms with music thanks to the immense power they have. The Edifier S880DB's volume controls aren't linked to Windows' volume control, so you can tweak both to get just the right volume for you.
Wrapping up
The Edifier S880DB sound really amazing for anything I put through it. I thought the Edifier R1280DB offered a lot of inputs, but the Edifier S880DB takes it a notch further with the addition of USB input. The USB input feeds one of the best DACs in the market, the XMOS DAC, while the AptX support means you can enjoy good sound wirelessly. These speakers are also more compact than most of its peers in the higher end bookshelf speakers market, making them ideal for PC users who want a good pair of speakers without sacrificing too much space. Priced at RM899 on Lazada at the time of writing, the Edifier S880DB is a great option for those who prefer compact speakers that look modern without sacrificing on sound quality. It is also perfect for beginners who might not want to go through the trouble of picking their own DACs and amps. The XMOS DAC inside the Edifier S880DB is a really good one, and should be capable of fulfilling most users' requirements. A standalone XMOS DAC can cost around RM512 on its own, making the Edifier S880DB a really good deal! It is definitely deserving of our Gold Pokdeward!
Our thanks to Edifier Malaysia for the Edifier S880DB in this review.