Review
Lenovo Yoga 920 Galactic Empire Star Wars Special Edition Laptop Review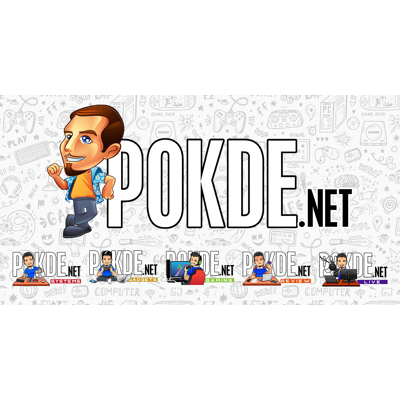 Positives
+ It's a beautiful, eye-catching laptop
+ Light and easy to bring around
+ Above average battery life
+ NVMe SSD massively speeds up booting times
+ Touchscreen display makes it easier to use even without a mouse
+ UHD display gives out detailed and vibrant visuals
+ USB-C charging
Negatives
- Expensive
- Lack of ports
- Can't simply use any USB-C charger / powerbank
Our full, in-depth review of the Lenovo Yoga 920 Galactic Empire Star Wars Special Edition laptop. Is this worth shelling out your hard-earned cash?
Lenovo Yoga 920 Galactic Empire Star Wars Special Edition Laptop Review
We have seen quiite a number of laptops over the years here on Pokde.net, but we have never quite seen anything like what we have here today. It's not about it being a 2-in-1 device, it's not about its touchscreen capabilities, it's not about lengthy battery life, nor is it about the ultrathin and light body. It's the fact that it's a Star Wars Special Edition laptop.
Without further ado, let's dive into the Lenovo Yoga 920 Galactic Empire Star Wars Special Edition laptop.
Unboxing
We actually made an unboxing post earlier on the Lenovo Yoga 920 Galactic Empire Star Wars Special Edition laptop. In case you missed it, you can check out the video right above here or click right here to get up to speed.
Appearance
The first thing you're obviously going to notice here is the Galactic Empire special design on the Lenovo Yoga 920 Star Wars Special Edition laptop. What makes it so sexy is that it's a glossy, black theme with some white dots and the Galactic Empire logo in the center, representing the Empire in the vast darkness of outer space. Under the Corning Gorilla Glass hood, it's expected to be scratch-resistant, but remember it's not scratch-proof or crack-proof.
There's not much ports on this laptop. On the left side, you have a couple of USB-C ports (Thunderbolt 3), which is also the same port used for charging, as well as a combo audio jack. Keep in mind that if your headset has separate plugs for mic and audio, you will need an adapter to use it on this. On the right side, it's just a single USB 3.0 port and a power button.
Open it up and you'll see the Lenovo-style chiclet keyboard and a trackpad right below it. There's really nothing much to gawk at here to be honest but what looks quite interesting here is the watchband-style hinge. Not only is it aesthetically pleasing, it also functions pretty great as I was able to smoothly fold the laptop without issues and provide a stable foundation for it to stand over and again. It is said that the design helps protect the CPU from long-term dust damage but we have no proof of that.
As to be expected, the UHD IPS display on the Lenovo Yoga 920 Galactic Empire Star Wars Special Edition laptop is absolutely beautiful. Most people will not be able to tell much difference between Full HD and UHD on a 13.9-inch screen but you can be sure that visuals are reproduced wonderfully and with very vibrant colours too.
Overall, the Lenovo Yoga 920 Galactic Empire Star Wars Special Edition laptop is an eye-catching laptop but there should've been more work done on the keyboard / trackpad area, as it looks the most bland there. At this point, it just feels like you're paying extra just to have a cool-looking back design on the Yoga 920.
Lenovo Yoga 920 Galactic Empire Specifications
CPU
Intel Core i7-8550U (4C / 8T @ up to 4 GHz), 8M Cache, 15W TDP, 14nm
RAM
16GB DDR4 2400 MHz
GPU
Intel UHD Graphics 620
Storage
512GB NVMe SSD
Display
13.9″ UHD (3840 X 2160) IPS Touchscreen Display
Keyboard
Chiclet Keyboard
Connectivity
Wireless:
802.11ac(2×2) Wi-Fi
Bluetooth 4.1
I/O:
1 x USB 3.0 with always-on charging
2 x USB-C (Thunderbolt 3, PD, DP, USB 3.0 full-function)
Audio
2 x JBL Speakers (Left & Right)
1 x Combo Audio Jack (Mic + Headphone)
Dolby Atmos
Power
4 Cells Li-Polymer Battery, 65W Adapter
Dimensions
323 x 223.5 x 13.95 mm (W x D x H)
Weight
1.4kg
Performance
If you were wondering why the Lenovo Yoga 920 Galactic Empire Star Wars Special Edition laptop has such insane speeds on CrystalDiskMark, just keep in mind that it's NVMe SSD and not just a regular one. To translate this to usage, expect some really fast boot up times not only with Windows but also any programs you install. Though it might be slightly hindered by RAM, the 16GB DDR4 2400MHz RAM should easily be able to handle things with little to no issues.
Now, don't worry too much about the OpenGL test there being less than 60FPS as it is using the Intel UHD 620 chip for display, and to be honest, I expected much worse. It seems that some light gaming with this would still be okay. The CPU shows that it can handle quite a bit of tasks, despite it being one of the more energy-efficient ones out there, without much problems.
And lastly in our benchmark suite, Unigine Heaven Benchmark indicates that the Lenovo Yoga 920 Galactic Empire Star Wars Special Edition laptop is…kinda bad. To be fair, the setitngs for the benchmark, which is the same for every single laptop review we do here, is quite painful for the Intel UHD 620. Essentially, expect it to be able to do stuff, but not much.
As for the battery life on this machine, it has never come close to the estimated 11 hours but it is still pretty good. This would heavily depend on what internet browser you use as well as what exactly you're doing. Watching videos will eat through the battery faster than anything else but it's still not bad.
I generally see 6 to 8 hours of use per full charge. What I do on this laptop is writing, browsing the internet, watch YouTube videos, and listen to some music usually. Editing pictures here like using Photoshop may affect it some more but I doubt it will be too much. On standby. or just closing the laptop without shutting down basically, will barely cost battery even after leaving it that way for a day. While this varies from time to time, it's usually less than 10% if I leave it on standby for a whole day.
User Experience
The Lenovo Yoga 920 Galactic Empire Star Wars Special Edition laptop is a joy to use but this is depending on your priorities. It's slim, light, and obviously eye-catching. it also packs quite a bit of power but not in the sense of gaming. It has some really fast boot times thanks to the NVMe SSD, and the CPU is no slouch either. If you're thinking of using this for browsing the internet, do office work, and essentially nothing too complicated, you will have a superbly smooth experience.
Anything more than that would be tough because keep in mind, this is using an Intel UHD graphics which means gaming or some extensive like video editing would be a big no-no. Not to say that it can't play games at all, just that you'll either have to pick something more simple, or take some older games and perhaps tune down the graphics settings…by a lot.
When i first started using this, I was actually confused as to why the keyboard has no backlighting. The specifications indicated that it should be, but I don't see any button from F1 all the way to F12 indicating any form of activation for it. Turns out, you have to press Fn + space bar to do that. It will toggle between 3 different lighting modes; off, dim, and bright.
The keyboard itself is pretty okay but needs a bit of getting used to. Keys feel rather shallow and require little travel so you can type rather quickly. What I'm not really a fan of is the shape of the keys, with it being shaped like a square for the top half, and curved / semi circle for the bottom half. I don't feel like it affects my typing or comfort, but it's just not really aesthetically-pleasing for me.
One notable downside here for the Lenovo Yoga 920 Galactic Empire Star Wars Special Edition laptop is especially important for those constantly at work. There is a lack of ports, so much so that an external USB hub of some kind may be needed for a number of people. You only have 2 USB-C ports and a headphone / mic combo jack on the left, and a single USB 3.0 Type A on the right.
While a DVI port may be too much for a laptop this thin, I feel like adding a HDMI port of some kind would help make this extra useful. Perhaps a mini or micro HDMI port if size is an issue. Sure, you can use one of two USB-C Thunderbolt ports to connect to an external display but I feel like we have not come to a point where the majority of consumers are aware / comfortable with using it for that purpose. Not to mention that many consumers are very familiar with HDMI over the years, which may eliminate the need to purchase extra cables.
With that being said, there is one thing that I really love about this laptop, and that is the use of the USB-C port as a primary charging port. Simply put, you use USB-C to charge this machine. However, keep in mind that you can't simply use any powerbank / charger for this as it need to have a certain amount of power to successfully do so.
While this may not sound as convenient as you might initially think, it's a matter of perspective as well as what gadgets you own. For example, I can use my official Nintendo Switch charger to charge this laptop, thus eliminating the need to bring two different chargers if I'm taking both of these out for a walk. You can still charge the laptop with a powerbank, just that you need to find one with PD (Power Delivery) charging capabilities. That added versatility in keeping the laptop powered makes the Lenovo Yoga 920 even more attractive.
The display on the Lenovo Yoga 920 Galactic Empire Star Wars Special Edition laptop is beautiful. After all, it's a 4K UHD (3840 x 2160) IPS display, which means everything looks superbly detailed and the colours are vibrant and lively. What I love most about the display however is its touchscreen capabilities.
Especially when it comes to doing work or pretty much anything outdoors, having a touchscreen-capable display makes it easier for me to do practically anything without the need to bring a mouse around. I don't mind not having the folding mechanism as I rarely use it in tablet mode anyway but touchscreen makes it worth using. On that note, the trackpad is just okay with nothing to shout about.
As for the JBL speakers, I am uncertain if this is simply branding or if JBL actually had a hand with the speakers on this laptop. Either way, it's actually not bad if you place it on a flat surface. Assuming you are facing the laptop, you can feel the audio being directed to you and it has a surprising amount of depth. It's a bit lacking in volume but even if you can somehow force more out of it, I'm about to pretty sure the audio will start cracking anyway. For best audio experience, get a decent pair of earphones / headphones.
Overall, I actually really enjoyed using the Lenovo Yoga 920 Galactic Empire Star Wars Special Edition laptop. It's easy to bring around, has above average battery life even on standby, and packs more than enough power for your everyday use. Just keep in mind that isn't meant for gaming, though I kinda wished it at least had an NVIDIA MX150 GPU so it can aid just a bit more on that end.
Conclusion
The Lenovo Yoga 920 Galactic Empire Star Wars Special Edition laptop is a great machine. It's fast, fuss-free, and easy to bring around which makes it perfect for work. The Galactic Empire design is a plus as it makes it look absolutely gorgeous. As long as you don't purchase this with the sole intention of gaming, I highly doubt you will have any complaints with this laptop…aside from getting used to the keyboard at first.
But herein lies a problem. Because it is the special edition version of the Lenovo Yoga 920, it's actually pretty expensive. If you ask me, I would not be willing to part with RM8,888 for a laptop like this. Don't get me wrong, the laptop itself is great but I don't feel like the price is justifiable. That being said, the special edition design means that it's not catered to the masses but rather, fans that can afford it. Unless you're a real diehard fan of Star Wars, I'd suggest looking elsewhere, or look for the regular Lenovo Yoga 920 with similar specifications.
If we're judging solely on performance on the grounds of its intended purpose, I would have given this laptop our most coveted Gold Pokdeward. However, taking the price itself into account and knowing you can get something better at that price point, I will have to award the Lenovo Yoga 920 Galactic Empire Star Wars Special Edition laptop with our Silver Pokdeward.