Review
Sony A8F 4K OLED TV Review – Good for Gaming, Great for Netflix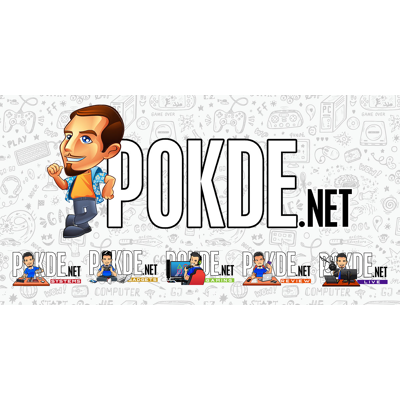 Overview
Designed as a premium TV offering full of features, the Sony A8F is a 4K OLED TV that is said to offer some of the sharpest details and truest blacks. Is it worth the money? Let's find out.
RM7,859 (55-inch)
RM11,659 (65-inch)
Positives
+ Can easily fit in any house / room
+ Good for gaming
+ Great for movies
+ OLED panels
+ Surprisingly good built-in speakers
+ Great picture quality
+ Powered by Android OS
+ ARC / eARC is great for futureproofing
Negatives
- High input lag (except Game Mode)
- Remote control navigation needs improvement
- Initial startup is a little slow
- Pricey
What's In The Box?
Due to the monstrous size of the Sony A8F 4K OLED TV, we couldn't do an unboxing for it. However, this is what you're expected to get inside the box:
Power cable
Batteries
Operating Instructions
Quick Setup Guide
Table Top Stand
Remote Control
Appearance
For our review unit, the Sony A8F OLED TV has a panel size of 65-inches. This is considered the "higher end" version as there are two size options, with the other being the more affordable 55-inches. There are no differences in appearance and features, so it's just a matter of size difference and affordability on that end.
Looking from the front, it has a very clean look. There's minimal bezels on all four sides, and it appears as if there's no branding at first glance. In truth, you can see the Sony logo on the bottom-left corner, which will be hard to notice when the TV is powered on. At the bottom-center portion, there is an LED light indicator which glows white to show that it's powered on.
Moving to the side, the Sony A8F OLED TV appears to be quite thin, at roughly 5mm. When you take into account the area that houses the ports, wall mount, and other key components, that 5mm turns into 55mm. It's still thin nonetheless but it's something you need to take note of, especially if you're looking for a TV setup that is completely flat on the wall.
Then on the back, there are three key areas you need to take note of. Right on the center with the horizontal lines is where the built-in subwoofer is located. On its left where the Bravia logo is present is where the actuators are, which vibrates screen to produce audio with their Acoustic Surface technology. Lastly, you have removable covers at the bottom area which can be used to hide the ports and wires for better cable management. Near the ports, you have three buttons; Volume Up, Power, and Volume Down.
As for ports, you have the following that you can make use of:
2 x USB 2.0
1 x USB 3.0
4 x HDMI 2.0 (ARC; CEC)
1 x RJ45-LAN
1 x Satellite In
1 x AV Composite In
1 x Optical Audio Out
1 x 3.5mm Audio Out
1 x RS232 (C)
1 x IR Out
The table top stand is a single-piece metallic hardware which sits the center. You can actually have the TV installed on it either front or back, with each position giving the Sony A8F OLED TV a slightly different height. If you plan on using this together with a soundbar, go for the higher placement.
Overall, the Sony A8F OLED TV is one of the cleanest displays we've seen around. It may not be the thinnest but it's nowhere close to being thick. The more discreet branding approach is a plus, and this should easily fit in any living room or bedroom unless size is a concern. In which case, you can always opt for the smaller 55-inch variant.
Specifications
Panel Size
Wide Screen 65″ (164 cm) Auto
Panel Type
OLED
True Resolution
3840 x 2160
Display Viewing Area (HxV)
1428.51 x 803.54 mm
SoC
MediaTek MT5891
ARM Cortex-A53, 4 x 1100 MHz
2GB RAM / 16GB storage
OS
Android 8.0 Oreo
Pixel Pitch
0.372 mm
Brightness
300 cd/m2
Contrast Ratio
Infinite
Viewing Angle (CR≧10)
178°(H) / 178°(V)
Response Time
1 – 50 ms
HDR Support
Yes, HDR10, Dolby Vision, HLG
Refresh Rate
60 Hz
MotionFlow XR
Low Blue Light
No
HDCP Support
Yes
Viewing Modes
Vivid / Standard / Custom / Cinema Pro / Cinema Home / Sports / Animation / Photo-Vivid / Photo-Standard / Photo-Custom / Game / Graphics
Adaptive Refresh Rate
No
Signal Input
2 x USB 2.0
1 x USB 3.0
4 x HDMI 2.0 (ARC; CEC)
1 x RJ45-LAN
1 x Satellite In
1 x AV Composite In
1 x Optical Audio Out
1 x 3.5mm Audio Out
1 x RS232 (C)
1 x IR Out
Audio
Acoustic Surface
2 x 10W, 2 x 10W, 10W subwoofer
Dolby Digital, Dolby Digital Plus, Dolby Pulse, DTS Digital Surround, ClearAudio+
Sound Modes
Standard, Dialog, Cinema, Music, Sports
Power
0.5 W (sleep) to 450 W (max) consumption
Mechanical Design
Tilt : No
Height Adjustment : No
VESA Wall Mounting : 300x300mm
Dimensions
1447 x 836 x 55 mm, 24.4 kg
Performance
We begin our tests with DisplayCAL, using Spyder5 as the measuring device, to see how well it performs. Right out of the box, this is how it performed.
| | | |
| --- | --- | --- |
| Measured whitepoint | 7.77 | Not OK |
| Measured display profile whitepoint | 1.13 | |
| Average ΔE*00 | 1.6 | Not OK |
| Maximum ΔE*00 | 5.06 | Not OK |
Measured whitepoint aside, we expected the Delta-E score to not be good prior to calibration. This is on Standard Mode with no picture-altering features enabled. Afterwards, we calibrated it and see if there's any improvements.
| | | |
| --- | --- | --- |
| Measured whitepoint | 7.8 | Not OK |
| Measured display profile whitepoint | 1.49 | |
| Average ΔE*00 | 1.27 | OK |
| Maximum ΔE*00 | 4.16 | Not OK |
After calibration, the scores did improve somewhat but the Maximum Delta-E still isn't okay. Essentially, while colours are normally accurate, it is possible for it to appear different from the original at times. This could be due to some colour boosting features in the TV.
As for the colour gamut, the Sony A8F 4K OLED TV managed to cover 99.9% sRGB, 83.5% Adobe RGB, and 94.1% DCI-P3. For Gamut volume on the other hand, it covers 176.2% sRGB, 121.4% Adobe RGB and 124.8% DCI-P3. The scores are pretty great, making it a viable choice for creative work or if you just need a big range of colours.
We ran the display uniformity test to see if each part of the display are equally lit up, with the centre square used as a guide and compared to the others. The result is rather surprising as it's suggesting that four of the nine areas listed above are brighter than the other five. This is rather odd as from my eyes, it seems evenly lit. This may be due to the use of OLED panel.
User Experience
Getting Things Started
When I first received the Sony A8F 4K OLED TV, I thought it was going to be impossible for me to set it up on my own. It's a large 65-inch TV weighing in at 24.4kg. While it wasn't an easy task, the difficulty lies only within its hefty size and weight. The TV itself is pretty stable already by putting it on the table top stand. All that was left was to screw it in to properly secure it.
All I had to do then was plug in the power cable and connect the TV to my PC, PlayStation 4, and Nintendo Switch via HDMI. I pressed the power button near the ports, and that was the last I used of that as I relied solely on the remote control for navigation. With a TV of this magnitude, you're going to need the remote control for ease of use.
When you first power the TV on, it will take almost a minute for it to start working. In fact, the Sony A8F 4K OLED TV will take roughly 5 to 10 seconds to register the Power button input. Afterwards, the built-in Android OS will take about half a minute to get things up and running. This can seem like a pain to wait but subsequent power ups will be much faster for as long as it's plugged in to an electric source.
Picture Quality
Right from the start, I noticed how the colours look amazing on the Sony A8F 4K OLED TV. The colours are punchy, the contrast is amazing, and details generally very sharp. That was also when I realized that the TV runs on Vivid Mode by default. On Standard Mode, the colours didn't pop as much but the contrast is still great and details didn't get worse.
This shouldn't be a surprise seeing that our own benchmark results show that it's capable of a wide colour gamut / coverage. Given the OLED nature, you get the truest blacks with pixel shut off and you can essentially view it from any angle without a loss in colour saturation. I still wouldn't watch it at extreme angles because it wouldn't be enjoyable anyway.
4K content displayed on the Sony A8F 4K OLED TV is simply breathtaking. Whether you're on Netflix or on YouTube, the picture quality is simply superb. There still isn't an abundance of 4K content you can enjoy so chances are that you'll be viewing more Full HD content instead.
Upscaled to 4K, Full HD content looks pretty sharp with minor softening present. From 720p HD however, it seems unnaturally smooth / soft. It won't result in a bad viewing experience but the visuals can seem a little jarring at times. Personally, it still looks better compared to viewing the same image on a 720p / Full HD display. As for which viewing mode works best, that's up to personal preference. If you're not sure, stick to Vivid or Standard.
As far as motion goes, it's generally good but I would recommend disabling the MotionFlow feature. What it does is that it adds extra frames to visuals, making it appears smooth but it can be a bit of an overkill, resulting in the "soap opera" effect. If you do enjoy that type of viewing experience, there's nothing wrong with leaving it on. You can always adjust the intensity of it to suit your liking.
One thing that's worth noting is that there is a slight issue with glare / reflection. It's kind of a reflective screen and I'm sure you guys might have noticed my studio lighting kit seen in the reflection. You will definitely want to keep it away from sunlight for a better viewing experience.
Gaming
For gaming, we needed hardware that is powerful enough to run at 4K resolution with the best settings possible. As such, we used the Acer Predator Helios 700 gaming laptop. The specifications can be seen right below here:
CPU
Intel Core i9-9980HK (8C / 16T @ up to 5 GHz), 16M Cache, 45W TDP, 14nm
RAM
32GB DDR4
GPU
NVIDIA GeForce RTX 2080 8GB GDDR6
Storage
512GB NVMe PCIe SSD x 2 (RAID 0 )
Display
17.3″ FHD (1920 x 1080) 144Hz IPS display with G-Sync
Keyboard
HyperDrift keyboard with MagForce WASD Keys, Per-Key RGB
Connectivity
Wireless:
Killer Wi-Fi 6
Bluetooth 5.0
I/O:
3 x Type-A USB 3.1 Gen 2
2 x Type-C USB 3.1 Gen 2
1 x Kensington Lock
1 x DisplayPort
1 x HDMI 2.0
1 x RJ45 LAN (KILLER Ethernet E3000)
1 x Proprietary Charging Port
Audio
4 x Speakers
1 x Headphone Jack
1 x Mic Jack
Array Microphones
Power
70Wh 4-cell Li-Ion Battery, 330W Power Adapter
Dimensions
430 x 299 x 41.7 mm (W x D x H), 4.9 kg
From the moment I connected it to the gaming laptop, I noticed that there's a noticeable delay with mouse movement. As soon as I turned on Game Mode, that delay is essentially gone. The reason for this is the TV's post-processing features which make visuals look better. Game Mode basically disables all of that, which results in a lower input lag.
Playing Tekken 7 and Apex Legends on the Sony A8F 4K OLED TV is great. The details are sharper, especially given the 4K resolution, and everything looks clearer. My biggest trouble with battle royale games is that I have a hard time seeing enemies but on this, it's easier to spot enemies. I have to attribute this to the nature of OLED panels.
This is particularly interesting because on the Nintendo Switch with Super Smash Bros Ultimate, which is also running at Full HD when docked, the input lag is equivalent to PC gaming. This may be due to optimizations on Nintendo's end or how the dock outputs to external displays.
On the PlayStation 4, details aren't as sharp but that's because it's running on Full HD. There's also a slightly higher input lag with games in general compared to PC gaming but this appears to be present with other displays as well, even gaming monitors. This is most likely a limitation with the PS4 hardware itself.
In summary, gaming on the Sony A8F 4K OLED TV is great but you will need to use Game Mode for lesser input lag. Visuals generally look amazing regardless of the platform, but I won't recommend this for competitive gamers as the response time is nowhere as fast as a gaming monitor.
Android TV / Remote Control
The Sony A8F 4K OLED TV is running on Android OS, specifically 8.0 Oreo. It's running on the MediaTek MT5891 chipset with 2GB RAM and 16GB internal storage. Keep in mind that this is a TV and not a smartphone, so it doesn't need to be powerful. The benefit here is that you can run all sorts of apps directly on the TV.
You have access to a wide range of apps like Netflix, YouTube, Hulu, and more. You can even install your own media player app like VLC, and play videos directly. While the 16GB storage isn't much to store, your best bet is to connect an external storage to the USB port here. While Android OS on TV can't install all the apps on Play Store directly, it can actually play any Android app by sideloading it, giving you even more options.
The remote control itself is pretty standard for most TVs. You have a wide range of options you can make use of, and it's generally straightforward to use. The on-screen display itself is also easy to navigate through. What I would have wished is a motion-based navigation similar to what LG has with their Magic Remote. It would make navigating way easier as the current one is a bit tedious and slow.
One thing I'd like to take note of is that the Sony A8F 4K OLED TV seems to suffer from some Wi-Fi issues. The first is having no internet access despite successfully connecting to Wi-Fi. That one I managed to solve right here. The other is that connectivity seems to be unreliable. Despite connecting to the same Wi-Fi, the YouTube TV app seems to buffer a lot whereas playback is smooth on PC.
Sound
I dare say that the Sony A8F 4K OLED TV has the best built-in speaker to have ever been made. As mentioned previously, this uses the Acoustic Surface technology so the screen vibrates to produce sound. The idea may sound weird but you would think that the TV has typical built-in speakers when experiencing it for the first time.
The bass may be lacking but the clarity is excellent for built-in speakers. It's particularly great for voices, so dialogues in games, videos, and movies will be clear and not drowned by background music or sound. This is interesting because it feels exactly the opposite with the HT-X8500 soundbar.
With its surprisingly high volume and the audio being directed to what's in front of the screen, it's a very pleasing experience. It's actually not a bad idea to rely on it instead of getting a standalone audio system unless you want a truly immersive surround sound experience.
If you want to use this with a standalone audio system, you have a variety of options. The first two ways are common; Optical Out and 3.5mm Audio Out. The third way is via ARC (audio return channel), which connects via HDMI.You simply need to connect the ARC-compatible sound system to the TV via HDMI (port 3) and it will be treated just like built-in speakers.
This means you can easily adjust the speakers using the TV as opposed to tinkering with the speakers directly. Not only does it make life easier, HDMI can send higher resolution audio compared to Optical Out, so you're ensured of the best audio experience possible. If you have audio systems that supports ARC / eARC, you should definitely use it.
Sony A8F 4K OLED TV Verdict
The Sony A8F 4K OLED TV is a premium offering that can easily fit in any household, regardless of whether it's the living room or the bedroom. If you're looking for a home cinema experience or something that would be look great to game on, you won't go wrong with this. Colours are punchy, details are sharp, the Acoustic Surface audio is satisfying, and OLED panels give you the truest blacks along with great viewing angles.
It does have its fair share of drawbacks however. It's pricey, input lag is noticeable (except in Game Mode), navigating with the remote control can be tedious, and it's suffering from Wi-Fi issues. If you can look past all that, you'd definitely be very happy with this. With that, I award the Sony A8F 4K OLED TV with our Silver Pokdeward.
Big thanks to Sony Malaysia for sending us this TV for us to review, and Acer Malaysia for letting us use the Acer Predator Helios 700 to fully test it.