Review
Plantronics RIG 800HS Wireless Gaming Headset Review; Specifically for Gaming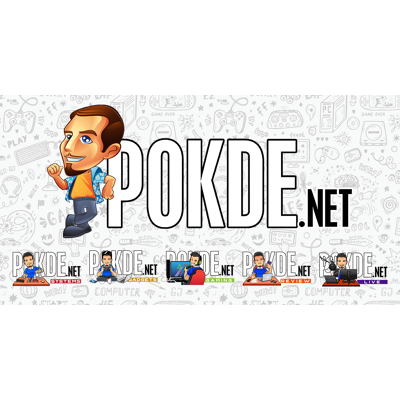 Positives
+ Good battery life
+ Comfortable and great for long-hours use
+ Can be used on PC and PS4 without a problem
+ Works right out of the box
+ Great in-game audio experience
+ No lags or interruptions
Negatives
- Below average microphone quality
- Works better on USB rather than optical
- Not so enjoyable to listen to music with
Introduction
Our review of the brand new Plantronics RIG 800HS wireless gaming headset. Some parts it excels in, other parts it doesn't. See if this is the one for you.
It would appear that we have a sudden surge of gaming headset reviews, with the Edifier G4 and the Razer Tiamat 2.2 V2 being the recent ones, on Pokde.net recently. Not that it's a bad thing since our gaming section has been growing at an exponential rate. There are plenty of gaming headsets to consider and it can be tough to choose from depending on your budget. Today, we're going to take a deep look into the Plantronics RIG 800HS wireless gaming headset.
Unboxing the Plantronics RIG 800HS
The box of the Plantronics RIG 800HS exudes gaming in its design. The colour scheme and the information written on it just screams gaming. All of the headset's features are written on the box; most on the back, some on the front, and the remaining on the sides.  The headset itself is packaged in a way that will minimize any possible damage from impact. Once you take off the headset from its "plastic throne", you'll find the wireless receiver just right below it.
Dig deeper into the box and you'll find the optical audio cable, microUSB cable, quick start guide, and warranty information. If these words seem a little vague for you or you simply need a clearer image of how the unboxing process looks like, check out the video above. Overall, there's really no problems with the packaging of the product. Everything is packed neatly, the design appeals to gamers, and it should be able to protect itself in most shipping situations.
Appearance
Taking a look at the Plantronics RIG 800HS, you'll notice that the earcups are oval in shape. It's utilizing memory foam cushions, like you hear from those fancy pillows, to maximize the comfortability factor while also providing good sound isolation. Coupled with the headset's frame, it allows the Plantronics RIG 800HS to retain a light, yet durable build that should be able to last for quite some time.
Looking at the sides, you'd notice that there's 3 holes there. Unlike most other headsets where you move the headband to either tighten or loosen it on your head, this one requires the use of these holes to do that. There are a total of 6 holes for this, with 3 holes on each side. I'll explain what I think of this approach in the user experience section of this review.
As for the headband itself, it looks kind of flimsy but to be fair, it was designed this way to be flexible and light so it wouldn't cause unnecessary pressure on gamers' heads. The unidirectional microphone can be flipped up or down whenever you want to use it, and it works pretty smooth. This swiveling mechanism is built pretty well so it shouldn't cause unnecessary problems, such as being stuck and unable to turn the mic down. It's worth noting that the actual microphone itself can be bent so you can have it directed to your mouth area.
If you look at the back of the left earcup, this is where the dials, switches, and USB port is located. If you wanted to adjust volume on-the-fly, turn the headset on, balance between in-game and chat audio, or charge the headset, this is where you need to look at. On the bottom of the right earcup on the other hand is where you can adjust equalizer settings on-the-fly.
Surprisingly, you don't see much of the branding on the Plantronics RIG 800HS. You'd see more of the 'RIG' branding rather than the Plantronics branding. I suppose if you're conscious about having too many logos or too many of one particular logo on your product, this would be an attractive choice. Overall, the headset has that look that will appeal to gamers and while it doesn't look exactly solid, it's surprisingly durable when you get your hands on it.
Specifications
| | |
| --- | --- |
| Drivers: | 40mm Dynamic drivers |
| Frequency response: | 20 Hz – 20 KHz |
| Battery | 1,500 mAh |
| Impedance: | 32 Ω |
| Microphone: | Noise-cancelling, Unidirectional pattern |
| Features: | Wireless, optical audio, 24-hour battery life, 4 EQ Modes, isolating earcups |
| Wireless: | Lag-free 2.4GHz digital RF |
User Experience
Using the Plantronics RIG 800HS is pretty straightforward. All you have to do is plug the wireless receiver to your machine via USB, turn on the headset itself, and it should work immediately. If you're on PC and no sound is coming in, you might have to change the default device on Playback Devices but generally, that should be done automatically. This works on both USB 2.0 and USB 3.0. It sets up even faster on PlayStation 4 as it's recognized almost immediately after connecting to it via USB.
Putting on the Plantronics RIG 800HS, it is a very comfortable gaming headset to wear. With its lightweight and memory-foam cushion, there are times when I felt like I wasn't wearing a headset. This is especially the case since it's a wireless headset, as I've found myself going to the bathroom and forgetting to take it off.
Remember those 3 holes I mentioned to adjust the headset? Well, it's not as convenient as pulling the headband like most other headsets but one thing's for sure, you will never find yourself having the headset accidentally adjusting itself for whatever reason and it will maintain this way no matter what. So for most people, this will only be a pain initially but once you've adjusted to the suitable hole, you don't have to worry about it anymore.
Even after a 5-hour gaming marathon with a mix of Marvel VS Capcom: Infinite and Overwatch, my ears nor my head didn't feel like it was too hot. Of course, it's at least a bit warm since it's covering my ears but it's nowhere near uncomfortable.
How does the Plantronics RIG 800HS wireless gaming headset sound like? Well, it's a bit of a mixed bag and depends on what you really need a gaming headset for. For gaming in itself, it's excellent. It reproduces in-game environmental sounds, explosions, movements, and more perfectly. There was never a time where I felt like something was muffled or overbearing that it overshadowed other sounds going through the headset.
However, that is when you're using it directly on the USB receiver. If you were to connect the optical cable to the receiver and utilized the sound coming from that (such as  the Realtek High Definition audio for PC), the bass is noticeably lowered and sounds become noticeably more neutral…or bland I would say. On top of that, volume is kind of lacking as at max volume, it's only just okay for me. You also can't adjust equalizer on the go when you're on optical connection This is not a problem if you were to use the Plantronics RIG 800HS with only the USB receiver and not the optical connection.
Listening experience is the same on the PlayStation 4 as well for both scenarios. If you're listening to music on the other hand, it's not really enjoyable. It's not exactly bad but since gaming with it gives a good experience, you'd expect much better listening experience when listening to music. Adjusting through the available equalizers help, but not by much. This is also why I feel that the Plantronics RIG 800HS is built specifically for gaming.
As far as the microphone is concerned, it's below average. It's just enough to chat with people online or in-game and nothing more. We've definitely heard better microphones on gaming headsets around. It did pickup a tiny bit of noise from the headset when listening to something loud but it's definitely a lot better compared to the Razer Tiamat 2.2 V2 on this aspect. This could possibly be because of the wireless connection but to the least, it's doing its job.
And arguably the part that everyone is wondering about; the battery life of the Plantronics RIG 800HS wireless gaming headset. It claims to have a 24-hour battery life but with only 1,500 mAh battery, some people are skeptical about that claim. Well, let me put those worries to ease. At full charge, I was able to use the headset for 4 – 5 hours everyday for 5 days straight before I needed to charge again. That's essentially on-par with what Plantronics is claiming. I give my seal of approval for the battery life, that's for sure.
Conclusion
The Plantronics RIG 800HS is a decent wireless gaming headset that's expected to be retailing for RM899 when it starts selling (officially) in Malaysia. It's very comfortable especially for long-hours use, surprisingly durable despite not looking the part, the battery life is good, and it sounds pretty good when you're gaming. However, it doesn't sound as good when listening to music, the microphone is below average, and it sounds better on USB rather than optical.
If you're the kind of person who likes to game a lot and love the freedom that wireless headsets offer, this would be the one for you. Not once did I notice any delays, interruptions, or hissing noise, which is quite common in wireless headsets. If you need a better quality microphone, you can always just get a standalone microphone as that would be a more cost-effective option.
With that in mind, I award the Plantronics RIG 800HS wireless gaming headset with our Silver Pokdeward!