Review
ASUS ROG STRIX GL702Z Gaming Laptop Review: A Unique Proposition For You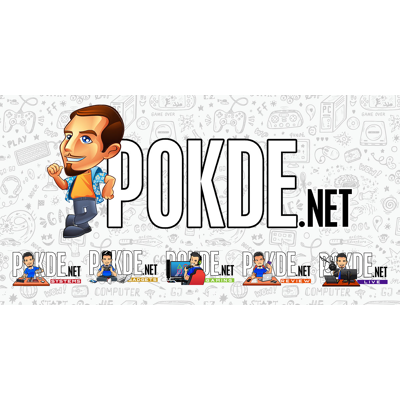 Positives
+ Packs a lot of power under the hood
+ 17.3-inch FHD IPS display is a joy to look at
+ Looks pretty damn sexy
+ A unique AMD Ryzen-powered gaming laptop offering
+ Desktop-class performance
Negatives
- A bit on the hefty side
- Below average battery life
- Charging brick is a pain to carry around
- Can get very noisy and warm
Our official review of the ASUS ROG STRIX GL702Z gaming laptop, powered by AMD Ryzen. Should one consider this instead of the traditional Intel CPU-based gaming laptops? The answer is…
There are all sorts of machines that we've tested here on Pokde.net, from the slimmest workhorses to the beastliest machines, but we've never quite experienced something like what we have here today. What we are going to show you today is a rather interesting machine as it is powered by AMD Ryzen instead of an Intel CPU. This is the ASUS ROG STRIX GL702Z gaming laptop.
Unboxing the ASUS ROG STRIX GL702Z Gaming Laptop
In case you missed it, we posted our official unboxing of the ASUS ROG STRIX GL702Z gaming laptop. I've included the unboxing video just above here but if you need more details on the unboxing, you can find it by clicking here.
Appearance
It's no surprise that the ASUS ROG STRIX GL702Z gaming laptop is a sexy looking machine. The black metal (not to be confused with the music genre of the same name) build gives it an overall neutral colour scheme that makes the red colour of the ROG logo. the 2 slits accompanying the logo, as well as the illuminated chiclet keyboard truly pop out.
On the left side of the ASUS ROG STRIX GL702Z gaming laptop, you have  the charging port, RJ45 LAN port, USB Type-C port, HDMI port, a USB port, and a headphone / microphone combo jack. On the right side on the other hand is where a couple more of USB ports, Kensington Lock, and the SD Card reader are located.
On the bottom part of the ASUS ROG STRIX GL702Z gaming laptop, you can see that there's a number of slots / slits for ventilation purposes. Aside from the rear exhaust vent, this does seem rather little. Then again if you are gonna be placing this on the flat surface, it's not gonna matter anyway.
Once you've opened up the lid, you will be greeted with the illuminated chiclet keyboard, a track pad, and its beautiful 17.3-inch Full HD IPS display. You do have the numpad here on this keyboard but keep in mind that it's somewhat merged with the arrow keys, making it rather compact but you get everything you need from a keyboard.
Overall, I can't help but feel that the ASUS ROG STRIX GL702Z gaming laptop is like a more grown up or buffed up version of the FX503 laptop that we reviewed earlier this year, in terms of appearance of course. It's like a more solid version of the FX503, but with the ROG STRIX branding. Not only is it sexy, it's a design that inspires confidence, as if to say that when you see it and hold it, you know this thing packs a lot of power under the hood.
ASUS ROG STRIX GL702Z Gaming Laptop Specs
CPU
AMD Ryzen 7 1700 8-Core @ 3.0 GHz
RAM
8GB DDR4
GPU
AMD Radeon RX580 4GB GDDR5
Storage
256GB M.2 SSD + 1TB 7200RPM HDD
Display
17.3″ FHD (1920×1080) Anti-Glare IPS Display with 72% NTSC
Connectivity
Integrated 802.11 AC (2×2) Wi-Fi
3 x USB 3.0 port(s) Type A
1 x Type C USB 3.1 (GEN2)
1 x RJ45 LAN Jack
1 x HDMI, Support HDMI 2.0
1 x mini DisplayPort
1 x SD Card Reader
Audio
Sonic Studio & Sonic Radar
1 x Combo Audio Jack (Mic + Headphone)
Power
4 Cells 76 Whrs Polymer Battery, 280W Adapter
Dimensions
41.5 x 28 x 3.4 cm (WxDxH)
Weight
3.2kg
Performance
The ASUS ROG STRIX GL702Z gaming laptop utilizes a Sandisk SSD and a 1TB 7200RPM HGST Travelstar 7K1000 HDD. It's worth noting that the SSD seems to be on the slower side compared to other laptops with SSDs as far as CrystalDiskMark is concerned. The HDD did well enough, and I can't be thankful enough to know that ASUS decided to opt for a 7200RPM one instead of 5400RPM drive.
As for Cinebench R15, it did well enough for the OpenGL test but the one thing that definitely caught me by surprise is the CPU score. I mean, compared to most of the other laptops I've used for this test, this was clearly the fastest as the test took far lesser time and scored amazingly too. Guess that's the power of AMD Ryzen for you.
And lastly with our benchmark suite, we have Unigine Heaven Benchmark 4.0. Following our standard practice of setting it on Direct3D11, 1600 x 900 resolution with 8x Anti-aliasing, and ultra settings with no tessellation, the ASUS ROG STRIX GL702Z gaming laptop performed admirably here and certainly did not break a sweat. To give you a clearer idea, it scored nearly double of the FX503.
No gaming laptop test is complete without testing a bunch of games on it. It's no surprise that it can run most major eSports games like DotA 2, CS:GO, and Overwatch at the highest settings without issues. It's interesting to see that it's also capable of running it at lower temperatures than initially anticipated. I was honestly expecting the CPU at least to be around the 80-90 degree Celsius mark easily.
To see how far we can push this machine, we decided to include a recently released game to our gaming benchmarks as it requires quite a lot of power to run it, and that is Final Fantasy XV Windows Edition. We set the game to its highest setting by the way, and it saw an average of 34 FPS. While temperature is only that much, it's worth noting that the laptop gets really noisy after roughly 10 minutes of playing the game.
The ASUS ROG STRIX GL702Z gaming laptop is certainly a powerful beast, but of course with some games, we might need to dial it down just a little bit to have a more consistent and enjoyable experience. The machine can get a bit warm and noisy, but we're not really surprised given that it's running on AMD Ryzen. If power is what you need, then power is what you will get with this.
User Experience
The ASUS ROG STRIX GL702Z gaming laptop is a rather hefty machine at 3.2kgs in weight but I wouldn't say it's troublesome to carry around. It's something along the lines of old school powerhouse gaming laptops, except this one uses the latest in technology today. If you can't afford to be lacking in power no matter what, the weight and size is certainly of no issue. In fact, I myself enjoy having the 17.3-inch display.
Speaking of display, the 17.3-inch Full HD IPS display certainly makes gaming very enjoyable. The colours are vibrant, viewing angles are great with no colour degradations, and I never have any trouble keeping track of what's happening on the screen. Can't say much about response time as I feel like there no lag, or very little if any, between my actions and what I see on screen.
With all of the above however, battery life is expected to be bad and surely enough, it was. I was anticipating at least 3 hours of battery life with regular usage but it struggles to last even up to 2 and a half hours of just internet browsing and some YouTube videos. It's worth noting that this might be because the laptop doesn't have access to a low-powered GPU and thus, will be constantly using the RX580 which is a lot more power hungry compared to something like the Intel HD Display which laptops commonly utilize when it doesn't need to run resource-intensive applications.
The illuminated chiclet keyboard is very comfortable to use. With 1.6mm travel distance, it's rather tactile and I don't find myself slowing down in terms of typing speed. It's worth noting that it's a backlit keyboard and it only lights up in red, and that it has N-key Rollover, which some of you may know as anti-ghosting, so it will be able to register multiple keys being pressed at the same time. It is said to be able to register up to 30 keys pressed at the same time, which is more than enough.
The trackpad itself is normal. Nothing stands out about it and it doesn't feel fragile with every click. In other words, it's reliable enough if you need to use it but best to have a mouse or a gamepad around, especially if you plan on gaming on this thing.
If you're looking for a good gamepad to purchase, you might want to consider the Razer Raiju, which can also be used with the PS4. Check out the full review of the gamepad by clicking right here. We gave it our coveted Gold Pokdeward by the way.
As far as the built-in speaker and microphone is concerned, sure, it's somewhat better compared to plenty of laptops out there. This is thanks to ASUS Sonic Studio and Sonic Radar but if you plan on streaming or listening to music on this thing, do yourself this favour. Get an affordable microphone and headphones, or a decent quality gaming headset. Those will always produce much better results.
With the 256GB Sandisk M.2 SSD, the ASUS ROG STRIX GL702Z gaming laptop certainly feels rather speedy. As it has a secondary 1TB 7200RPM storage, there's certainly plenty of storage to go around. You should be able to install most of your applications and games easily on the SSD and keep everything else on the HDD. If you have to install it on the HDD as the size might be too big, just thank the lords that it's not a 5400RPM HDD.
Will all of that being said, the ASUS ROG STRIX GL702Z gaming laptop seems to be more fitting as a mobile desktop rather than a laptop, and this is not because of the weight / size. It packs plenty of power but the battery life is below average so you definitely need to bring the charger along everywhere you go. Keep in mind that the charging brick itself is huge enough to cause concussions when thrown at people's heads so that might be a bit troublesome for some of you.
ASUS ROG STRIX GL702Z Gaming Laptop Verdict
The ASUS ROG STRIX GL702Z is a great gaming laptop, and it certainly offers a unique proposition for consumers as it's powered by AMD Ryzen. As I mentioned before, it seems to be more suitable as a mobile desktop as it packs quite a lot of power but also requires plenty of power to run it, which would result in the battery life being below average.
The size and weight of this shouldn't be too painful for people to endure but by today's standards, it might be a bit on the hefty side. This would be a good option for those who already own ultra-thin laptops and need a secondary one with much more power. If this was to be mine, I would honestly upgrade the SSD and the RAM so I can maximize the CPU's potential.
Whether you should buy this or not pretty much depends on what you are looking for in a laptop. If you're looking for one to bring around for work and you're always on the move, then this is not for you. If you're always going to be nearby a power point or you need a desktop-class machine that is more convenient than having an actual desktop, this is actually a good option to consider for its price tag of RM7,099. With that in mind, I award the ASUS ROG STRIX GL702Z gaming laptop with our Silver Pokdeward!