Review
Edifier TWS5 True Wireless Earbuds Review — a little more money for a lot more sound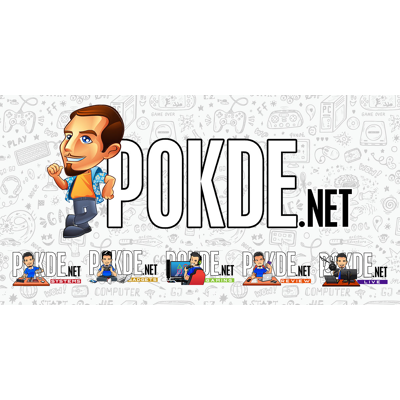 Overview
Edifier more often than not nails it when it comes to value for money, so while the Edifier TWS5 may not be that affordable, you can expect it to be pretty great. You wouldn't be wrong.
1 Year Local Supplier Warranty
Positives
+ Mix and glossy plastics look good
+ Awesome sound
+ Comfortable fit
+ Great battery life
Negatives
- Shape may not fit everyone
- microUSB charging port
Last month we took a look at the Edifier TWS1, which was an affordable entry point into the true wireless stereo (TWS) scene. What if you wanted something better? Something that can roll with the big boys? Glad you asked, because the Edifier TWS5 was the most premium pair of TWS earphones. That was until the Edifier TWS6 were released, but we digress. Let's see how well do these fare.
Unboxing
If you have seen our review of the Edifier TWS1, you would not be too surprised by the packaging here. It's the exact same beige-grey color, but it is a bit more substantial. And there's a plastic hook.
Over on the back we see a similar layout. Some specifications are here along with most of the highlight features of the Edifier TWS5. The specifications are actually relatively sparse though compared to their previous offerings, probably with the intention to focus more on conveying a message of the experience rather than the hardware alone.
As soon as you take off the lid you are met with the earphones themselves and the charging case.
The contents of the box isn't anything too special. The earphones are only accompanied by a microUSB cable and some eartips as well as a short user manual. There really isn't much to operating the Edifier TWS5, as well will go through a bit later.
Appearance
The Edifier TWS5's charging case is relatively boxier compared to the Edifier TWS1, and it's finished in matte black instead of a glossy one. The battery level LEDs are also a bit more obvious this time, instead of hiding it away under the glossy plastic shell. On the other side is where you will find a microUSB port for charging. Type-C would have been a lot more welcome.
The use of matte plastic extends onto the earphones as well, which now have a matte finish on the touch sensitive surface instead of a glossy one. The LED here is also quite prominent, which seems like an ongoing trend with the Edifier TWS5. On the other surfaces it's still glossy plastic, but at least the outer surface won't look all smudgy.
You will probably note the rather weird shape of the earpieces as well. Comfort would probably depend more on the shape of your pinna, but I do find the more bulbous design a bit easier to hold on to, aside from having them sit more securely in my ears.
Specifications
Drivers
6mm dynamic bio-cellulose drivers
Frequency Response
20 Hz – 20,000 Hz
Sensitivity:
104 dB
Impedance:
16 Ω
Headphone Type
True wireless, in-ear
Connection
Bluetooth 5.0 with aptX
Qualcomm TrueWireless Stereo Plus
Wireless Range
10m
Noise-cancelling
N/A for playback
cVc noise reduction for calls
Battery
Earphones
Up to 8 hours playback
1.5 hour full charge
Charging Case
3x Full Charge (total 32 hours)
Weight
Earphones
6g x 2
Charging Case
45g (without earpieces)
Colour
Black
User Experience
Pairing
As you might expect, the Edifier TWS5's pairing process is pretty simple. Take the earphones out of the charging case, and search for them on your smartphone. Once paired, they will automatically reconnect once you take the earpieces out of the case.
You can use them separately, with both left and right earpieces capable of connecting independently to your smartphone. You will have to pair the right one separately though, because for some reason the automatic pairing process prefers the left one.
Latency is still an issue with the Edifier TWS5 despite a higher-end Qualcomm QCC3026 chipset. While music and videos are in sync, gaming is not doable. That's a common issue so I wouldn't put it against the Edifier TWS5 for not being suitable for gaming.
In terms of the stability of the connection, I encountered zero issues with the Edifier TWS5. I could walk around our small office without bringing my phone along and I never encountered a single skip or stutter in my music. While some earphones may encounter issues with having the phone in the back pocket versus the front or stuff like that, this one maintains a solid connection regardless.
Sound
Edifier definitely designed the Edifier TWS5 for more discerning listeners. While the Edifier TWS1 had more a fun sound signature with strong bass and lackluster mids and highs, the Edifier TWS5 delivers a much more balanced sound.
Make no mistake though, these aren't going to be studio-grade earphones. The sound signature is rather typical of Edifier, leaning towards a warmer tone which I must say is right up my alley. There's plenty of bass for any popular EDMs out there, with just enough details in the mids for you to appreciate the vocals and guitar twangs in Boyce Avenue's covers. The highs are present too, with a clarity that was surprising given the warmth of the sound in general. In short, it's a sound that will work for almost everyone except maybe those who are used to high-end audiophile gear.
There's not much in the way of soundstage for these earphones though, which is expected given their closed design and relatively small size. Still, you will be able to discern left and right well with good stereo separation.
Comfort
While the Edifier TWS5 may have a rather weird shape, it actually helped me get a better fit with them. Rather than being just mere earbuds, the large, bulbous body of the earpieces prevents you from pushing the Edifier TWS5 too far into your ears, as well as fitting right into the concha for a more secure fit. As mentioned earlier, it may or may not work for everyone, but for my ears, they were a perfect fit.
Controls wise, the Edifier TWS5 has a similar system as the Edifier TWS1:
Play/Pause/Accept/End Calls: 1x tap
Skip forward: 2x tap
Skip backwards: 3x tap
Decline a call: Hold
Clear pairing: Hold for 8 secs
Disconnect from connected device: Hold for 5 secs
It's simple and intuitive, and the Edifier TWS5's matte finishing on the touch sensitive area definitely helped me quickly identify where to touch. The shape of the earpieces was also good for when I needed to adjust their fit or take them out without triggering any functions, a feat I found rather challenging with the Edifier TWS1.
And just like the Edifier TWS1, there's IPX5 splash and sweatproofing, although I am not into testing it under the rain or in the shower. The design does look rather well sealed, so I am not doubting Edifier's claims.
Battery life
Speaking of claims, Edifier promised 8 hours of battery life and I got exactly that even when playing at 80% of the volume. Three charges in the case, and I got just that. Also thanks to the more visible LEDs on both the earpieces and charging case, it's a lot easier to keep tabs on the number of charges still left in the tank. If anything, your smartphone will show the battery remaining in the earphones so you don't have to worry about them.
Conclusion
Is the Edifier TWS5 the ideal pair of TWS earphones to go for? Unlike the Edifier TWS1, your wallet will definitely feel the RM349 Edifier is asking for, but if you get it during a sale like the upcoming Lazada 12.12 Sale, you can get it for RM285. Even with such a promotion, it's still more than double the price of the Edifier TWS1.
I, for one, would say that the premium is worth it, simply because the Edifier TWS1 is more of a one-trick pony that delivers oodles of bass and not much else, while the Edifier TWS5 here is much more capable of handling a much more diverse set of genres, which is exactly what I listen to. I also found the Edifier TWS5 a lot more comfortable, which increases the value proposition a lot.
Our thanks to Edifier Malaysia for sending us the Edifier TWS5 for review!