Review
1TB Kingston DataTraveler Max Review – Fast But With A Major Flaw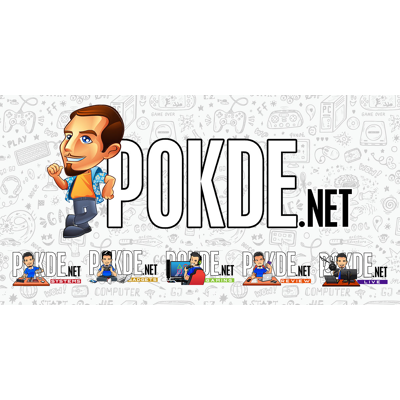 Overview
RM133 (256GB)
RM240 (512GB)
RM407 (1TB)
Positives
+ Excellent speeds for a flash drive
+ Multi-device compatibility (USB-C)
+ Still compact and easy to bring around
+ Backed by 5 years warranty
Negatives
- Cheap, hollow plasticky build
- Retractable USB-C connector portion needs a redesign
- Takes up more space at the port than it should
Unboxing the Kingston DataTraveler Max
The Kingston DataTraveler Max comes in your standard rectangular packaging like you would expect from a RAM, albeit not the see-through kind. You might be wondering why the box is rather big for a USB-C flash drive but you'll understand when you see the actual thing. Inside the box, we found the following:
The Kingston DataTraveler Max itself
Specifications
Capacity
256GB / 512GB / 1TB
Interface
USB 3.2 Gen 2 Type-C
Bridge Chip
Silicon Motion SM2320
NAND Type
3D TLC (Micron 96L)
Rated speed
Sequential:
Read: Up to 1,000MB/s Write: Up to 900MB/s
Dimensions
82.17 x 22 x 9.02 mm
Weight
12g
Included accessories
None
Warranty
5 years with free technical support
1TB Kingston DataTraveler Max Review: Benchmarks
Starting off our benchmark suite with CrystalDiskMark, you can see that the speeds on the Kingston DataTraveler Max is pretty good for a flash drive. This is easily above those cheap SATA III-based SSDs nowadays, but it is of course way behind M.2 NVMe drives you find today. If you're plan on running games or apps off of this, it might not be a bad idea actually. Using it as a bootable Windows drive would also be pretty great.
A similar pattern can be seen in Anvil's Storage Utilities, where you get pretty high speeds in both read and write. I know this type of technology isn't new but seeing this level of performance in a flash drive amazes me. It really shows how far we've come along with technology, and the old college student me would do a lot of things to get one of this, at least from a performance standpoint.
It appears to be a little slower in AS SSD but the Kingston DataTraveler Max still managed an admirable performance across the board. All of the speeds shown so far have made it to be a very viable multi-device storage tool.
Lastly on AIDA64, it did take a long time for it to complete, but we're not surprised given the nature of the product. To the least, it actually managed to finish and within reasonable time as we've had flash drives run for days on this test previously. It took almost 3 hours, at 177 minutes and 38 seconds to be precise, for it to complete. I also found interesting how the performance dropped significantly after tthe first 10%, and only ever picked up again in the last 10%.
Looking for an internal M.2 NVMe RAM with high speeds for your desktop PC? Check out our Kingston FURY RENEGADE SSD PCIe 4.0 review by clicking right here.
The Good
Apart from its stellar performance for a flash drive, there are other good reasons to consider getting the Kingston DataTraveler Max. For starters, it may be bigger than your standard flash drive but it is still a very portable piece of hardware. In fact, the hole on the opposite side of the connector makes it easy for you put it on a keychain, a carabiner or anything similar to bring it wherever you go. Something like the DataTraveler microDuo 3C might be more portable as it's a quarter of its size in comparison, but it's not exactly easy to tie it with your other accessories.
The other good reason here is the USB-C connector, giving it a more universal compatibility as you're not limited to just PCs but you can also use it with smartphones and tablets. The performance may vary but that holds true with different desktops / laptops as well as it depends on the USB port. If it's USB 3.2 Gen 2, then it will be performing at the top of its game. If you only want to use it on PC, you can always opt for the USB-A version.
The Bad
Now there is two criticisms that I have with the Kingston DataTraveler Max, one major and one minor. Let's start with the minor first, which is the build quality. It has a very plasticky build that isn't solidly built. A good chunk of it feels very hollow, and I'm certain that its chassis would break first before the internal components do. In simpler terms, you would need to treat it with a bit more care than most flash drives.
And now for the major part, the USB-C connector. The Kingston DataTraveler Max has a retracting mechanism for the USB-C connector, which is fine on its own. However, this mechanism also introduces a small gap when connecting to devices, be it a laptop, a desktop, or mobile devices. As such, you might have trouble getting it to connect as it might need a bit more push. For instance with our benchrig, the I/O shield has a small gap between itself and the USB-C port so the first time I tried connect this flash drive, it couldn't go all the way through. I had to do some MacGyver magic to get it to work.
While this wasn't an issue with an ASUS ROG laptop belonging to my colleague, it then brought another issue to my attention. The Kingston DataTraveler Max might block adjacent ports if it's too close in proximity. If it's spaced out well, then you should have nothing to worry but if you plan on getting this flash drive, do consider what sort of hardware you'll be connecting it to.
Kingston DataTraveler Max Verdict
If you're looking to buy the Kingston DataTraveler Max, you're likely looking for a portable solution with good performance at a more affordable price. After all, this sits between your typical USB flash drive that would be more portable and a portable SSD which is typically faster but noticeably bigger. From a performance standpoint, it's an excellent choice no matter how you look at it, at least for a flash drive.
From a design perspective, it certainly needs a big improvement, particularly with the USB-C port. At RM407, it's a little hard to recommend but if you go for the lower storage options, it's still okay given the more affordable price. At the end of our 1TB Kingston DataTraveler Max review, I award this flash drive with our Bronze Pokdeward.
Big thanks to Kingston for sending us this flash drive in celebration of Lunar New Year.