Review
Cooler Master CK350 Review — wallet-friendly solid design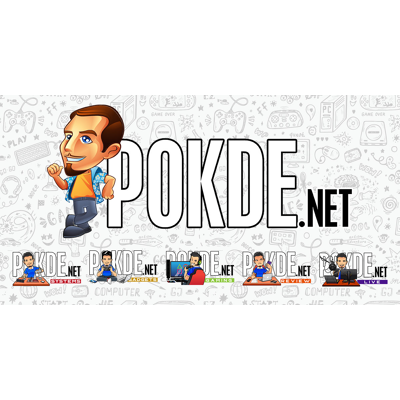 Overview
The Cooler Master CK350 is Cooler Master's entry-level mechanical keyboard which borrows the design of its higher end siblings, but adds its own twist that makes it even an even sweeter keyboard to start your mechanical keyboard journey with.
Positives
+ Simple design that look great
+ Cable routing channels are a welcome addition
+ Sufficient lighting modes to satisfy RGBae enthusiasts
+ Full NKRO and anti-ghosting supports
+ No-frills configuration options
+ Affordable
Negatives
- Doesn't support software customization
- Annoying pinging noise on some keys
- Media controls are a bit too far from the Fn key to be used comfortably
Introduction
Cooler Master has a pretty extensive lineup of keyboards, with the Cooler Master CK series offering great options for people with limited budgets. The Cooler Master CK550 was the first member of the family, while the latest Cooler Master CK350 comes in at a slightly more affordable price, but throws in a number of improvements across the board. No pun intended.
Unboxing
Coming in Cooler Master's signature grey and purple packaging, the Cooler Master CK350 is pretty recognizable as far as packaging goes. There's also a small window for you to experience the switches before you buy it, which is pretty important, especially for first timers.
On the bottom side, Cooler Master highlights some of the features of the Cooler Master CK350.
Once we open up the box, we find the Cooler Master CK350 covered in a plastic cover. Also in the box is a keycap puller and a user guide, which should come in handy later. It's quite surprising to see an entry-level keyboard come with a keycap puller though.
Appearance
It's a pretty standard looking full-length keyboard. If you have been survey mechanical keyboards recently, you might have spotted similar designs. The exposed smoky gunmetal faceplate faceplate design is pretty popular in recent times for some reason. The first thing which I noticed was that the Cooler Master CK350's sides are now no longer flared, so it occupies a slightly smaller footprint on my desk.
Instead of having the metal overflow and taper down to the sides, Cooler Master decided to have the aluminium taper to the front. The Cooler Master CK350 looks pretty good, and the design is also more in line with their recent keyboards in the Cooler Master MK series which have a sloped front edge.
Another area which they have changed quite drastically is the underside of the keyboard. The Cooler Master CK350 has some new nifty cable management channels. It's still non-detachable though, but given the price point, we wouldn't expect detachable cables anyway. There's no braided sleeving or gold-plated connectors, but Cooler Master didn't forget to throw in some of their signature purple into the USB connector.
Specifications
| | |
| --- | --- |
| Body material | Aluminium plate, plastic case |
| Keycap | Laser-etched ABS keycaps |
| USB report rate | 1000 Hz |
| Switch type | Oetemu Blue, 60g actuation force |
| KRO | NKRO |
| Anti-ghosting | Yes |
| Microprocessor | N/A |
| Cable | 1.8m rubber coated, non-detachable |
| Included accessories | User guide, keycap puller |
User Experience
The Cooler Master CK350 is plug-and-play. There isn't any software to speak of, as all the customization happens on the keyboard itself. There are plenty of hotkeys which we will be taking a look at later.
For gamers who are worried about key-rollover and ghosting, fret not. This keyboard exhibits neither of the issues. These are about as many buttons as I can hold down with one hand, and all of the buttons were detected correctly.
This is probably Cooler Master's first keyboard featuring Outemu switches. It is somewhat interesting that Cooler Master has now worked with almost every major mechanical switch maker, with the Cherry MX switches in their higher end MasterKeys/MK series, Gateron switches in the Cooler Master CK550, and now Outemu in the Cooler Master CK350.
I am personally not a fan of Blue switches, but the Outemu Blues are about as loud as any Blue switches out there, although from memory, Cherry MX Blue switches' clicks sound more crisp. The switches are also stiffer than its Cherry counterparts, coming in at 60g actuation force instead of Cherry's 50g. It does make for a solid option for those who find the Cherry MX Blue switches too light and would prefer a clicky switch with a stiffer spring. The Cooler Master CK350 in general feels and sounds pretty solid except for some annoying pinging noise around the Enter key area. Aside from that, I would say that the Cooler Master CK350 is pretty well built.
Moving on, the keycaps here are ABS laser engraved keycaps. You get these even with gaming keyboards priced at RM900 and above, but certain brands are already offering ABS doubleshot keycaps for their cheap mechanical keyboards. Of course, those are far and few in between but I do believe Cooler Master has some room for improvement in this area. I am not saying these keycaps are bad, they are solid, but, they could be better.
The keyboard features a number of RGB effects, 13 lighting modes to be exact. As mentioned, you have to play around with hotkeys to get the RGB to your liking. The RGB effects are pretty vibrant but the saturation of the reds appears a little milder. Aside from that, I am very pleased with the Cooler Master CK350's lighting, aside from the fact that I can't fully customize the lighting without software.
Taking a look at the hotkeys, I have some mixed feelings about this keyboard. The RGB controls are around the arrow keys, which makes it pretty convenient to use considering the Fn key is over on the right side of the keyboard. The volume controls however are over on F5~F8, which makes it quite a stretch. And the F9~F12 keys do double duty as shortcut keys. I have had keyboards with shortcut keys but I have never found them useful, so I am not particularly impressed by their inclusion here on the Cooler Master CK350.
Conclusion
In Cooler Master's description of the Cooler Master CK350, they call it the basic, standard-issue gaming keyboard that avoids gimmicks in favor of useful features essential for victory. I couldn't agree more. You get all the important features any gamer needs, except for maybe macro programming. The best part? It costs just RM239, which is more affordable than some gaming membrane keyboards.
For gamers who are getting their first mechanical keyboard, the Cooler Master CK350 is a great option. There are few better keyboards in this price range, and definitely even fewer that are backed by a 2-year warranty like the Cooler Master CK350.
Our thanks to Cooler Master Malaysia for providing the Cooler Master CK350 for review.