Review
Edifier TWS200 Lolipod True Wireless Earphones Review — it really isn't all about the bass…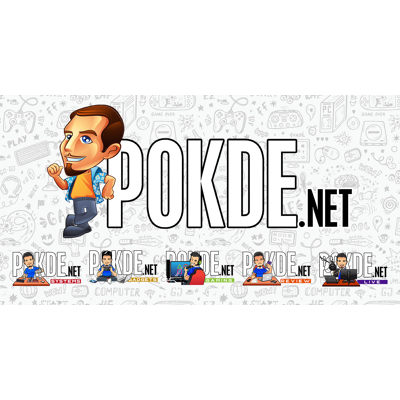 Overview
The Edifier TWS200 Lolipod boast of a semi-in-ear design that's very clearly inspired by a certain popular wireless earphones. It does come with features like aptX too while being offered at a very affordable price point.
1 Year Local Manufacturer Warranty
Positives
+ Case is very compact
+ Looks pretty good, albeit unoriginal
+ Comfortable
+Decent battery life
Negatives
- Bass overpowers everything
- Difficult to listen to music with the bass overwhelming everything
If you fancy the Apple AirPod's open design but are not willing to pay the top-dollar pricing it commands, this might be right up your alley. The Edifier TWS200, which is also known as the Lolipod, features a similar semi-in-ear design that doesn't seal you from the outside world, and what's better is its affordable price tag of just RM169. Intrigued already?
What's In The Box
The packaging is similar to all of the other Edifier TWS200, which means a grey box with the product image in the center.
Qualcomm aptX support is among the highlights of the Edifier TWS200, as it is definitely not all that common in a pair of earphones this affordable.
Over on the back we get more specifications and highlighted features…
And as usual as well, the contents are very simple. You get the earphones, a user guide, a microUSB cable and an activated carbon deodorizer. None of that silicon dehumidifier stuff here. Moving on, let's check out the Edifier TWS200's specifications…
Specifications
| | |
| --- | --- |
| Drivers | 13mm dynamic liquid cystal polymer composite (LCP) drivers |
| Frequency Response | 20 Hz – 20,000 Hz |
| Sensitivity: | 96 dB |
| Impedance: | 28 Ω |
| Headphone Type | True wireless, semi-in-ear |
| Connection | Bluetooth 5.0 with aptX Qualcomm TrueWireless Stereo Plus |
| Wireless Range | 10m |
| Noise-cancelling | N/A for playback cVc noise reduction for calls |
| Battery | Earphones Up to 6 hours playback, 1.5 hour full charge Charging Case 3x Full Charge (total 24 hours) |
| Weight | Earphones 4.5 x 2 Charging Case 31g (without earpieces) |
| Colour | Glossy Black |
User Experience
As you might expect from a product that's supposed to emulate Apple's designs, the design here is very simplistic. The glossy black looks very nice here but after a few days in my backpack, it has collected more than its fair share of scratches. I do wish they have went with the matte finish of the Edifier TWS5's case instead.
Pairing
One area that Edifier didn't manage to match Apple is the fact that they still had to put in a button. This button is only needed for pairing, so after you pair it with your smartphone, you should be able to ignore it.
Between the earphones lie a tiny LED that serves as a status LED. As you can see. It can glow in white and red, which indicate the following:
Power On: White LED stays on for 1 second
Bluetooth Pair: Red LED flashing
TWS Pair: White LED flashing
Deleted pairing: LEDs flash for 6 seconds
Comfort
Additional controls are available by touching them near the secondary microphone hole. They work via a number of taps, with taps on either the left and right earpieces corresponding to different functions.
Left: Activate Voice Assistant
Right: Answer/End/Play/Pause
When used individually, you can't activate voice assistant, with double taps allowing you to pick up and end calls as well as play and pause your music. There are no gestures, so you can't adjust the volume via the earpieces of the Edifier TWS200, unlike some more premium earphones featuring a similar design. As everything is made of glossy plastic, if you are very OCD about smudging up the earpieces, the Edifier TWS200 is definitely not the earphones for you. They do sit quite comfortably in my ears though, and since there's no silicone tips intruding into your ear canals, I found it possible to wear it for longer than I would usually use my in-ear earphones for.
Sound
One thing to note about the Edifier TWS200 is that it has quite a bit of bass which surprised me considering its semi-in-ear design, although I quickly realized that it may have just a bit too much of it. The bass guitar in Hotel California easily overpowered everything else, while the sizzle from the cymbal was notably absent. It definitely leans to a warm sound signature, with a heavy emphasis on the lower frequencies that overpowers and envelops everything else.
I can hardly recommend it for any sort of music as I found even EDM beats to be a bit overwhelmingly warm, but that might be my own personal preference. Since there's no sound isolation that an in-ear design might offer, the Edifier TWS200 lets you take in the noise around you, for better or worse. It might cause some to turn up the volume though, so you might want to be aware of that.
Battery life
Battery life is good with me getting the six hours that Edifier claimed the Edifier TWS200 will offer. The battery life of the earpieces are available in the Bluetooth menu of most smartphones, but it might probably be a bit harder to keep tabs on the battery of the case as the single LED isn't the most helpful for that. I do wish Edifier had the foresight to throw in a USB-C port here, but I guess you get what you pay for…
Conclusion
For RM169, I personally find it quite hard to recommend the Edifier TWS200. I would rather opt for the Edifier TWS1, as that offered a bass-centric sound signature which made EDM songs fun to listen to, but the Edifier TWS200 Lolipod is just overdoing it. Unless you really need a pair of inexpensive semi-in-ear earphones, just get the Edifier TWS1. You can thank me later.
Our thanks to Edifier Malaysia for sending us the Edifier TWS200 Lolipod for review